Spot ocean freight rates are still more than four times their pre-pandemic levels, but they are much lower now than they were a few months ago, and they are falling every week, for more than a dozen weeks in a row.
The question then is whether peak season cargo volumes, the end of Shanghai's coronavirus lockdown, and possible labor unrest at U.S. ports will cause spot freight rates to surge again in the second half; The decline in import demand will further reduce the spot freight rate, or even lower than the long-term contract freight rate.
▎Container shipping rates have fallen from high levels
Weakness in Asia-West America routes is evident in the direction of the Baltic Daily Freight Index (FBX) and the Drewry Weekly World Container Index (WCI).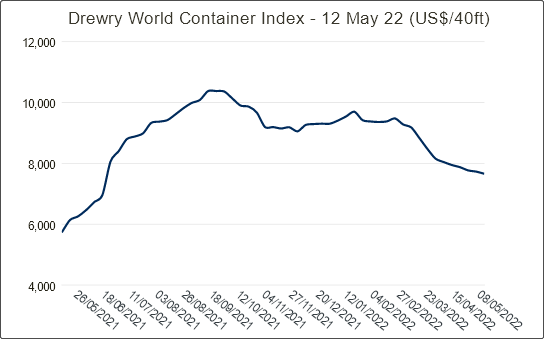 Between May 2 and 11, the FBX Asia-West America route index (including surcharges) fell by 25% to $12,217/FEU. As of Friday, the index had risen to $13,806/FEU, but was still down 33% from its all-time high in late September last year.
As of last week, the Drewry WCI Shanghai-Los Angeles rate index (excluding surcharges) fell to $8,666/FEU, down 23% from the rate index for the third week of January this year and down from the record at the end of September last year 30%.
The Asia-US East route also showed the same trend: a decline. The FBX Asia-US East Freight Index dropped from $18,711/TEU on May 2 to $15,982/FEU on Friday, down 28% from its record high at the end of September last year. Last week, the Drewry WCI Shanghai-New York freight index was $10,926/FEU, down 22% from mid-January this year and 32% from the record high in mid-September last year. freight rate
For other routes, according to the Drewry WCI index, the freight rate from Shanghai to Rotterdam fell 2% from the previous week to US$9,824/FEU; the freight rate from Shanghai to Genoa fell 1% from the previous week to US$11,736/FEU.
▎Blank sailing of Asian export services
Now, shipping lines are canceling some sailings due to congestion, reduced exports from China and reduced demand for imports.
"Carriers continue to announce sail cancellations and port hopping to boost rates as volumes dwindle," Platts said. One U.S. forwarder told Platts that his company "has seen a sharp drop in volumes over the past six weeks, and now it's all about Airline, in my opinion this will stabilize rates."
Last week, Xeneta CEO Peter Berglund said 63 sailings had been cancelled on the Asia-West America route over the past five weeks, with a total capacity of 517,300TEU. Berglund attributes this to "softening demand and increased determination by carriers to protect healthy spot rates."
According to the latest Drewry data, 58 of the 734 scheduled sailings will be cancelled between Weeks 20 and 24 on major routes such as the Trans-Pacific, Trans-Atlantic, Asia-Nordic and Asia-Mediterranean, of which 83 % of blank sailings will occur on transpacific eastbound routes, primarily to the west of the US.
During this period, the three major alliances cancelled a total of 47 sailings, of which THE alliance cancelled 20, the 2M alliance and the Ocean alliance cancelled 18 and 9 respectively.
As Shanghai fully opens up and industrial activity begins to normalize, gateway terminals in the U.S. and Europe are likely to see a surge in containers from Shanghai, Drewry said in the report. Shippers and beneficiary shippers may have to restructure their supply chains and review shipping options in Central China.
▎Summary of recent shipping company schedule adjustments, suspensions and port jumps
MSC Issues Blank Voyage and Schedule Change Notice
▪ The following sailings on the Asia-Europe route are cancelled:

▪ Change of voyage on Asia-Mediterranean route:

ZIM issued several notices of jumping to Hong Kong, involving Yantian, Shanghai and Ningbo
▪ ZSE, ZIM SAVANNAH 9W will jump to Yantian Port and all related cargo will be transshipped at Tanjung Pelepas Port (ETA 2 June).

▪ ZP9, MAERSK LINS 13S will jump to ports Yantian, Shanghai, Ningbo, all related cargo will be unloaded in Xiamen (ETA May 19), and plans to connect MAERSK LABERINTO 220N (ETA Xiamen/May 22, Yantian/May 24) date, Ningbo/May 27, Shanghai/May 28). freight rate

▪ ZSA, MSC ELMA 4W will jump to the ports of Yantian, Shanghai and Busan. Dangerous goods will be transshipped in Singapore (ETA May 21), and the rest of the cargo will be transshipped in Xiamen (ETA May 29). It is planned to connect to ZSA, COLUMBINE MAERSK 16W/ 17E (ETA Singapore/May 25, Xiamen/May 31, Yantian/June 4, Shanghai/June 9, Busan/June 12).
▪ ZP8, SANTA INES 12S will jump to Hong Kong Yantian, Shanghai and Busan. Among them, goods from Yantian Port and Shanghai Port will be unloaded at Nansha Port (ETA May 21), and it is planned to connect GOOD PROSPECT 30N (ETA Nansha / May 27, Yantian / May 28, Shanghai / May 31) ; Cargo from Busan Port is also unloaded at Nansha Port, planning to connect COLUMBINE MAERSK 17E (ETA Yantian/June 4th, Busan/June 12th).

▪ ZMS, MSC TINA 16E will jump to Shanghai, and all related cargo will be unloaded at Busan Port (ETA May 19).
Previous:Los Angeles: Thanks to Ningbo-Zhoushan Port, our cargo flow has not been affected by the closure of
Next:The ports on the Asia-Europe route are seriously congested, and the shipping schedule is delayed for